A Trusted Local Dog
Training Company
Innate Dog Training is a family-owned and trusted professional dog Behavior & Training Company. We are proud to be based in Las Vegas, Nevada, and part of our local community. Our founder Nathan Lochner has a long family history of serving Las Vegas. Nathan's grandparents & parents have all helped the Las Vegas community as small business owners since the 1960′s. Nathan resides in Las Vegas with his wife Jessica and their children.
Nathan Lochner is a certified professional dog trainer with a long history of valued service and expertise in the dog training industry. Nathan consistently earns trust by educating his clients and delivering real results in training their dogs. He is proud to be always referred by clients and leading veterinarians to new people in need of his trusted dog training methods.
We have a proven history of positively affecting families' relationships with their dogs. Whether training your precious new puppy, beloved rescue companion, a service dog, or whichever category your dog falls under, Innate Dog Training utilizes its expertise and years of experience to tailor a program specific to your needs.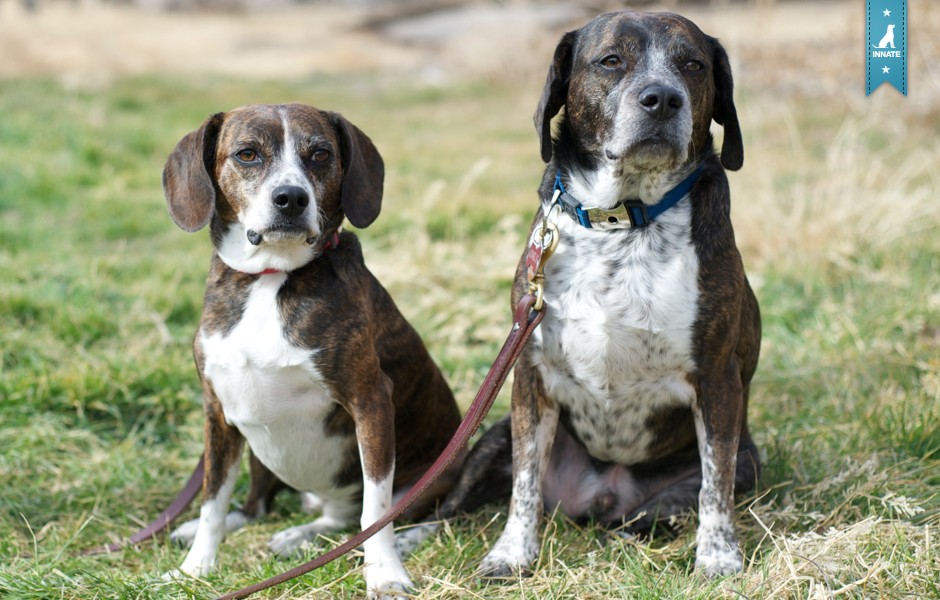 CONSISTENT. INDISPUTABLE RESULTS.
WE ARE PART OF THE COMMUNITY WE SERVE
Innate Dog Training is a member of our community. We are a local business and not a national chain. Our commitment to serving the society we live in runs deep. We are the 3rd generation of homegrown Las Vegas business owners.
WE ARE ENDORSED BY LOCAL VETERINARIANS & RESPECTED INDUSTRY PROFESSIONALS
Innate Dog Training is proud to be consistently recommended by local veterinarians & respected industry professionals throughout the greater Las Vegas area. Our long-standing history of superior care and real results is recognized and referred to often.
WE ARE CONSISTENTLY REFERRED BY OUR CLIENTS TO OTHERS IN NEED OF BEHAVIOR MODIFYING AND DOG TRAINING
Innate Dog Training treats its clients like family, and we are grateful for so many client compliments and referrals.
Crazy what they can learn in one day! Bentley and Bella have practiced what we learned today, and are doing very well! Just having the leashes on makes a huge difference. Thanks Nathan, we will keep working, and look forward to seeing you next week!
I highly recommend every dog owner to consider Nate's training.
For anyone needing a good honest person to help train their pet Nathan is the guy to call. I have known him for many many years and he is compassionate about his work and is truly dedicated to each owner and pet he has had the good fortune to help. Highly recommend!
I just completed my first session and loved it . I really enjoyed learning the proper techniques. Cali and I can't wait till our next lesson!
EDUCATING THE OWNER. TRAINING THE DOG.
Innate Dog Training obedience methods & philosophies have produced consistent and indisputable results time & time again. These methods are time-tested, highly disciplined, and effective on various breeds and temperaments by educating the owner and training the dog.
We believe that every dog needs a job, and every dog needs a leader. A dog's mind thrives on structure and discipline, and through our balanced training methods, you will see your dog flourish and become more bonded to you than ever before. Our flat practices use both influence and positive praise to gain your dog's trust in communicating your expectations to your dog consistently in a way that they will innately understand.
Using simple distractions like yourself and other household members, intermediate distractions like your local neighborhood for walks, and graduated distractions like outdoor shopping malls and local parks, your dog will learn to obey your commands in all situations, the first time, every time. We train at home, outside local parks, outdoor shopping malls, and anywhere pets are accepted. These various distractions are needed to prove the training is functional and exists.
We believe that your dog is not just a pet but a member of your family and a lifelong commitment. The real results of Innate Dog Training are earned, and the rewards you receive in return are boundless. The lifelong companionship you will experience is easily worth the short commitment and investment you make in properly training your dog.
If you want a family member that is truly bonded to you, a joy to experience daily, and a companion you can take anywhere, then Innate Dog Training is your leader.